Decking
Routine Care Task
Inspect decking for deterioration
Priority





The purpose for doing this task is that a deck that has been allowed to deteriorate can cause serious injuries by allow people to fall, trip, etc.
NOTE: The tasks and timings shown here for your Decking are based on a single-family home (owned), located in Massachusetts, United States, with priority set at '1 star' or higher, for all possible goals.
If you set your personalization differently in your Home Wizard app, then you may get reminders for different tasks and timings in your recommended home care program for your Decking.
How To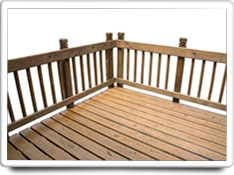 Inspect all outdoor wooden structures for signs of wear and deterioration. Use a screwdriver or wood awl to probe for soft spots.

Check the handrails, spindles, and other railing supports to ensure they can hold the weight of a large person leaning against them.

Check the deck flooring for boards that have split, warped, or came loose.

Check stairs by carefully applying weight on each step.

Tighten any nuts and bolts.
Benefits
Health & Safety

Maintaining Value

Avoiding Unscheduled Repairs

Appearance
The benefits of this task are high, for helping to reduce potential safety hazards.
Costs





The cost of this task is relatively low. It is estimated that this task should take about 30-60 minutes to complete, depending on the size and style of your decking. You will need a screwdriver or wood awl, a flashlight, and wrenches to complete this task.
Other Routine Care Tasks
Decking